The Impact of Effective Signage on Business Success
Octopus2022
If there is one factor that makes the crucial difference between success and obscurity for any business, it is creating effective signage. Signage is the magnetic force that draws potential customers, a beacon of information, and a silent brand ambassador who never takes a day off.
In this blog, we embark on a journey to explore the transformative potential of effective signage with Octopus Adverts, your trusted partner in the world of marketing and visual communication.
Defining Effective Signage
At Octopus Adverts, we view effective signage as more than just a display. It's a dynamic tool that communicates, persuades, and navigates. Effective signage, in our eyes, encapsulates the essence of a business, attracting attention, conveying messages with clarity, and fostering meaningful connections with the audience.
The Influence of Effective Signage on Business Success
Increased Visibility: Octopus Adverts' expertise in external signage ensures that your business becomes a prominent landmark, grabbing the attention of passersby and making your presence felt.
Reinforced Brand Identity: Our internal signage solutions not only guide customers but also serve as brand ambassadors, reinforcing your identity and values in the minds of visitors.
Effortless Navigation: Octopus Adverts' wayfinding signage solutions help customers effortlessly navigate complex spaces, making their experience smooth and enjoyable.
Boosted Sales: With our affordability signage, we help you highlight pricing and promotions, influencing customer decisions and boosting sales.
Mobile Branding: Octopus Adverts extends your reach with vehicle signage, turning your fleet into mobile billboards that ensure your brand is seen wherever you go.
How To Create Effective Signage For Business with Octopus Adverts
● Strategic Placement: With our guidance, choose the perfect location for your signage, ensuring maximum visibility and impact.
● Clear, Concise Messaging: Octopus Adverts believes in keeping it simple. Our signage conveys your message with clarity and precision, leaving no room for ambiguity.
● Visually Captivating Design: Leveraging the power of visuals, we create eye-catching designs that complement your brand identity and engage your audience.
● Readability and Visibility: Our design experts consider factors like font size, color contrast, and lighting to ensure your signage is not only visible but also easily readable from a distance.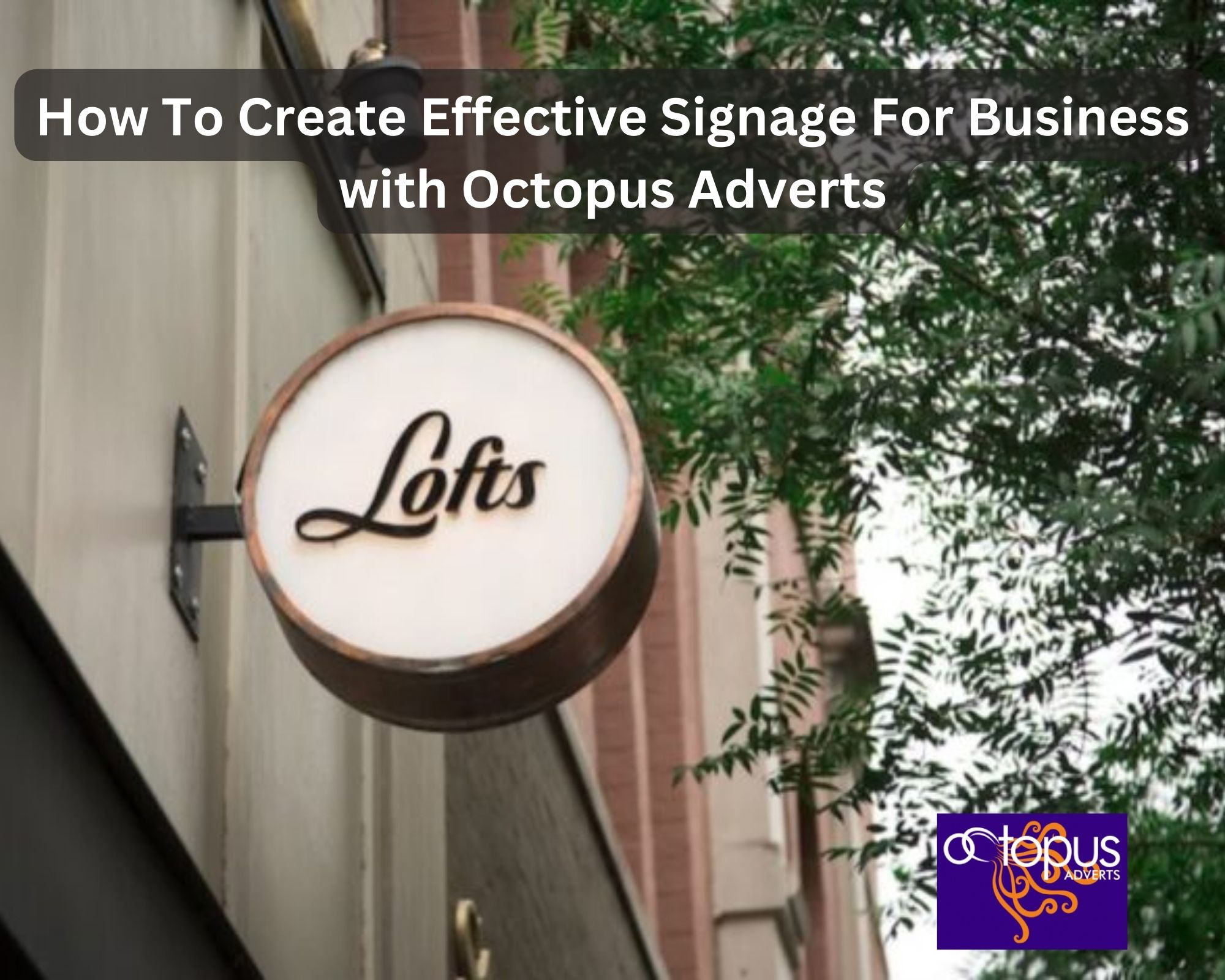 The Octopus Adverts Advantage for Effective Signage and Business Success
Effective signage isn't just a part of your business; it's an extension of your brand and a pathway to success. With Octopus Adverts as your partner, you're not just getting signage; you're unlocking the transformative potential of visual communication. From making a powerful first impression with external signage to enhancing the customer experience with internal and wayfinding solutions, we are here to ensure your signage speaks volumes and guides you toward the shores of business success.
So, embark on this journey with Octopus Adverts, where every sign tells a story, and every story leads to success.