The Impact of Outdoor Advertising on Consumer Behavior
Admin2022
Step outside and take a moment to look around – what do you see? A cityscape adorned with towering billboards, bustling streets adorned with colorful posters, and creative displays vying for attention. Welcome to the vibrant world of outdoor advertising, a realm where Octopus Adverts, the epitome of excellence among the top outdoor advertising agencies in Pune and pan India, weaves magic to shape consumer behavior in remarkable ways.
Amidst the cacophony of modern marketing, outdoor advertising stands tall as an art form that seamlessly blends creativity, technology, and strategic prowess. Together, let us embark on a captivating journey, exploring the profound impact that outdoor advertising exerts on the minds of consumers, and the invaluable role played by Octopus Adverts in crafting these mesmerizing campaigns.
From the charming streets of Pune to the sprawling metropolises across India, the impact of outdoor advertising is undeniable, leaving an indelible mark on consumer behavior. Join us as we delve into the mesmerizing world of outdoor advertising and unveil its profound influence on the minds and hearts of customers.
The Rise of Outdoor Advertising
With Octopus Adverts at the helm of innovation, outdoor advertising has experienced a metamorphosis from mere static displays to dynamic and interactive masterpieces. As one of the best outdoor advertising service agencies in India, Octopus Adverts embraces creativity, technology, and strategic planning to captivate audiences far and wide.
The Benefits of Outdoor Advertising
Establishing Unparalleled Brand Awareness:
In the sprawling urban landscape, outdoor advertising acts as a beacon of recognition for brands. Octopus Adverts strategically positions advertisements in high-traffic areas, turning brands into familiar faces that consumers can trust.
Unlocking the Power of Purchase Intent:
As the clock ticks and consumers journey through their daily lives, they encounter outdoor advertisements multiple times. This repetition fuels the flames of purchase intent, subtly nudging potential buyers towards making confident decisions.
Crafting Positive Associations and Emotional Bonds:
At Octopus Adverts, we believe in the art of storytelling. Our visually stunning and emotionally compelling outdoor ads resonate deeply with the audience, weaving positive associations that leave lasting impressions.
Navigating the Path to Success with Drive and Traffic:
By incorporating location-specific information and irresistible calls-to-action, outdoor advertising becomes a GPS guiding consumers towards a brand's physical locations or virtual storefronts.
How Outdoor Advertising Impacts Consumer Behavior
In this captivating dance between brands and consumers, outdoor advertising dons the role of a charismatic influencer, leading the way with the following enchanting effects:
Enigmatic Brand Awareness and Recall:
Like stars twinkling in the night sky, Octopus Adverts ensures that brands shine bright in the consumer's memory. Our impeccable outdoor placements etch brand images into the minds of passersby, building brand recall that lasts a lifetime.
The Alluring Spell of Purchase Intent:
The brilliance of outdoor advertising lies in its ability to turn casual interest into unwavering desire. As potential buyers encounter outdoor ads, they become more inclined to journey further along the purchase path.
The Artistry of Positive Associations:
Our team of visionary creators conjures magic with each outdoor advertisement. We skillfully blend design, messaging, and emotions to evoke a symphony of positive associations, inspiring trust and loyalty in the brand.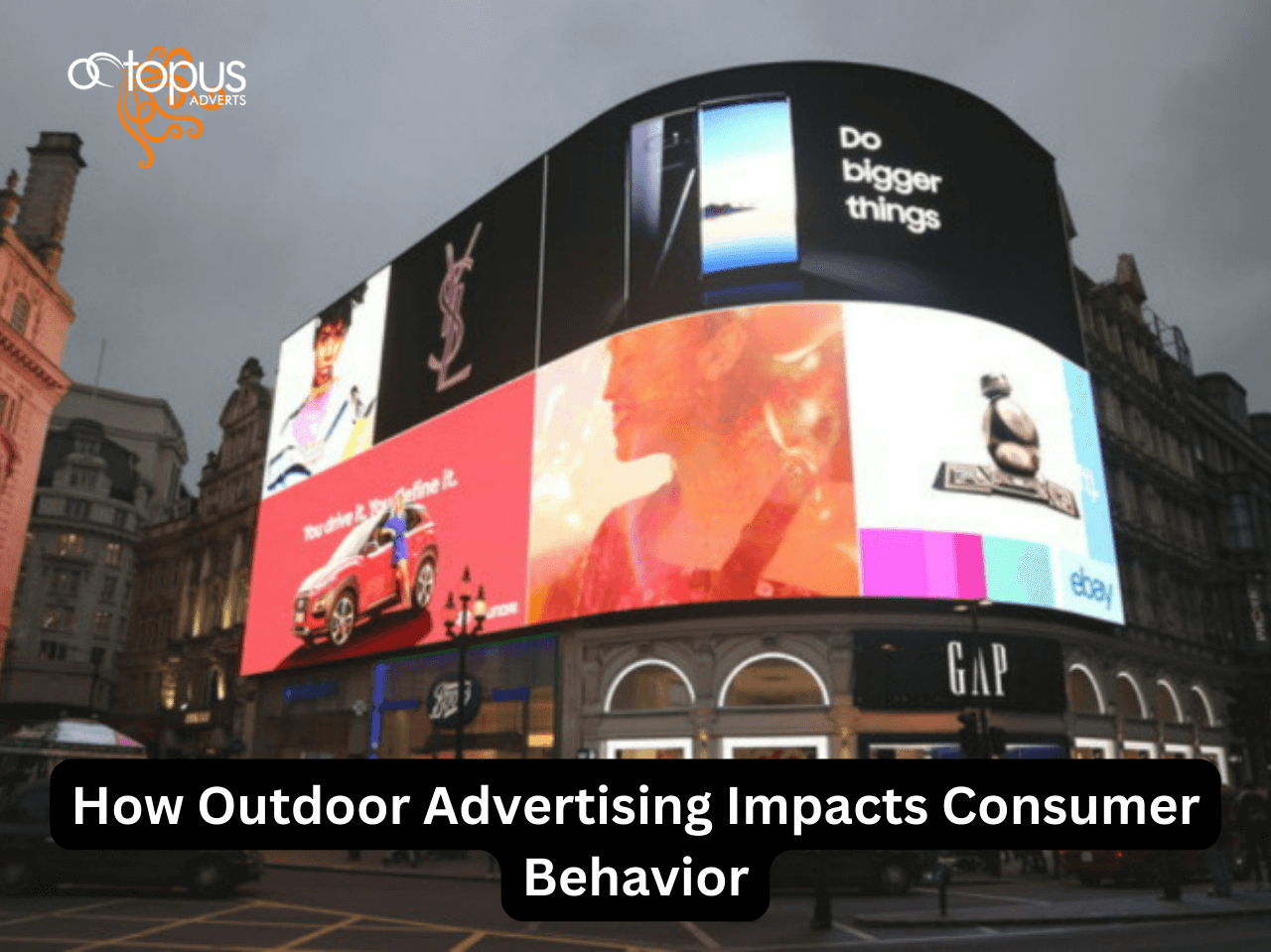 Tips for Creating Effective Outdoor Advertising
At Octopus Adverts, we live and breathe outdoor advertising, and we believe in sharing our secrets to success:
The Quest for Prime Locations:
By partnering with the top-rated outdoor advertising agency in Pune and pan India, brands unlock access to the most strategic locations, ensuring their message reaches the right audience at the right time.
A Visual Symphony:
We weave eye-catching visuals into our artistic tapestry, arresting attention and captivating hearts within seconds of exposure.
The Elegance of Simplicity:
In a world of information overload, brevity is key. Our outdoor ads embody the essence of simplicity, delivering compelling messages that linger long after the first glance.
As the curtain falls on our exploration of the profound impact of outdoor advertising on consumer behavior, one truth remains evident – with Octopus Adverts, brands can transcend the ordinary and embrace the extraordinary. By choosing the best outdoor advertising services agency in India, brands unlock the potential to forge deep connections with their audience, transforming curiosity into loyalty and turning aspirations into reality.
Let the enchanting realm of outdoor advertising embrace your brand, guiding it towards a brighter future, and making it a beacon of inspiration for the world to behold. With Octopus Adverts, witness the magic that unfolds when creativity and strategy merge, leaving an everlasting mark on consumer hearts and minds.