Pune's Top Digital Signage Providers: Who Should You Choose?
Admin2022
Picture this: you're strolling through the vibrant streets of Pune, and your eyes are drawn to a colossal billboard showcasing an alluring product. Without realizing it, you subconsciously memorize the brand's name and message. Welcome to the captivating world of outdoor advertising, where Octopus Adverts, a leading agency among top outdoor advertising agencies in Pune and pan India, works its magic.
In this blog, we, at Octopus Adverts– the top signage solution provider in Pune explores the undeniable influence of outdoor advertising on consumer behavior, uncovering how it ignites brand awareness, fuels purchase intent, fosters positive associations, and drives traffic to businesses across the nation.
The Rise of Outdoor Advertising
Outdoor advertising has risen like a phoenix from the ashes, redefining its boundaries in the modern marketing landscape. Octopus Adverts stands at the forefront of this evolution, utilizing cutting-edge creativity and strategic prowess to ensure brands shine brightly amidst the urban hustle. With the urban landscape serving as our canvas, we create a visual symphony that captures hearts and minds.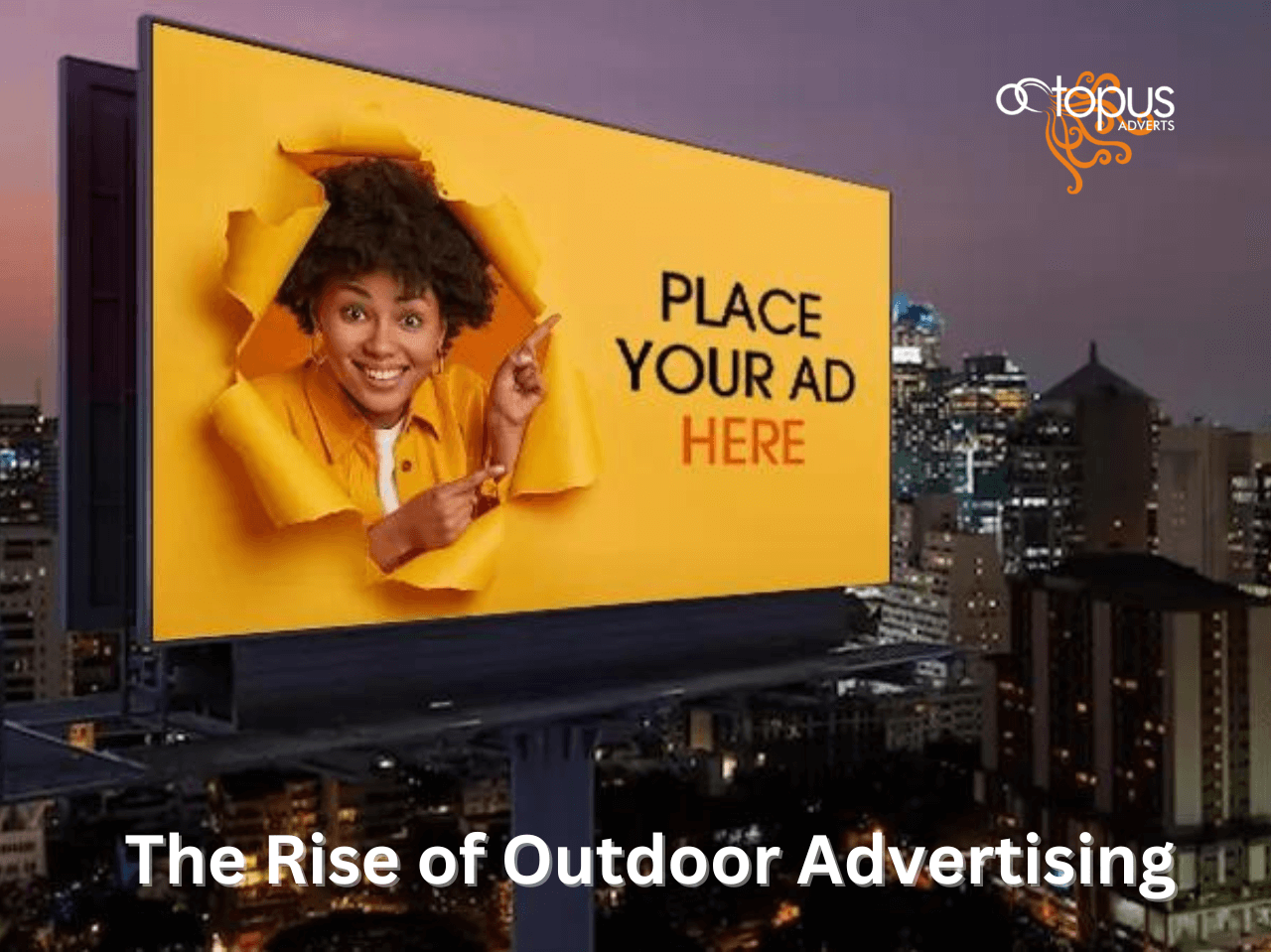 The Benefits of Outdoor Advertising
Unveiling Brand Awareness:
In the ever-competitive market, brand visibility is paramount. Outdoor advertising has proven its mettle by ensuring brands remain in the spotlight. Octopus Adverts' strategic placements in prime locations illuminate brands, making them instantly recognizable to the masses.
Fueling Purchase Intent:
Repeated exposure to outdoor advertisements acts as a catalyst, igniting a spark of interest in potential consumers. As they encounter captivating outdoor campaigns created by Octopus Adverts, their purchase intent is fueled, inching them closer to becoming loyal customers.
Fostering Positive Associations:
Outdoor advertising is an art of storytelling, and Octopus Adverts has mastered this craft. We craft visually stunning and emotionally compelling outdoor ads, creating positive associations with brands in the minds of the audience. Trust, loyalty, and admiration flourish as we strike chords in their hearts.
Driving Traffic:
Strategic calls-to-action and location-specific information in outdoor advertising can be a potent recipe for success. With Octopus Adverts' expertise, outdoor campaigns direct customers to physical stores or online platforms, driving an influx of foot traffic and digital engagement.
How Outdoor Advertising Impacts Consumer Behavior
Illuminating Brand Awareness:
Octopus Adverts' masterful outdoor placements ensure brands remain etched in consumers' memory, creating lasting brand awareness that surpasses fleeting moments.
Igniting Purchase Intent:
Our captivating outdoor ads serve as catalysts, sparking an intent to explore and acquire the showcased products or services, leading to increased conversion rates.
Forging Positive Associations:
Emotional connections established through outdoor advertising shape consumers' perceptions, fostering brand loyalty and driving repeat purchases.
Tips for Creating Effective Outdoor Advertising
Choose the Right Location:
As the Best Digital Signage Services In Pan India, Octopus Adverts possesses the acumen to identify strategic locations that maximize exposure and impact.
Use Eye-Catching Visuals:
Our creative visionaries breathe life into outdoor campaigns, crafting visually captivating displays that leave an indelible mark on passersby.
Keep Your Message Simple:
In a world inundated with information, concise and compelling messaging in our outdoor ads ensures the brand message is effectively communicated and retained.
Outdoor advertising wields a transformative power, shaping consumer behavior and propelling brands to new heights. With Octopus Adverts as your trusted partner, experience the potential of outdoor advertising to illuminate your brand, ignite purchase intent, and foster positive consumer associations.
From prime placements to creative excellence, Octopus Adverts stands as one of the top digital signage companies in India. If you seek to make an impact in the advertising world, we are here to unleash the full potential of for your brand. Embrace the journey of captivating consumers with outdoor advertising, led by Octopus Adverts, your beacon of creative brilliance and strategic excellence.