The Future of Printing: What's Next for the Printing Industry?
Admin2022
We're part of a bustling city where screens dominate our attention and virtual interactions have become the norm, and it's easy to overlook the tangible and transformative power of printed materials. Yet, in our digital age, the printing industry continues to weave its magic, captivating hearts, and minds with its unique ability to bring ideas to life on paper.
At Octopus Advertising, we believe that printing services hold an enduring charm, bridging the gap between the physical and the digital realms. As we move forward into the future, the printing industry continues to evolve and adapt, embracing new technologies and methods to meet the changing needs of businesses and consumers. At Octopus Advertising, we are committed to staying at the forefront of this industry revolution, providing innovative printing services to cater to your diverse needs. In this blog post, we will explore the future of printing and the exciting possibilities that lie ahead.
Printing Services Near Me: Embracing Local Accessibility
As technology advances, we recognize the importance of local accessibility in the printing industry. While digital communication has connected the world, the need for physical prints remains. Octopus Advertising ensures that we have printing services near you, so you can conveniently access high-quality prints without compromise. Whether you're in Pune or anywhere else in India, our widespread network of printing facilities ensures that you're never far away from a reliable printing service provider.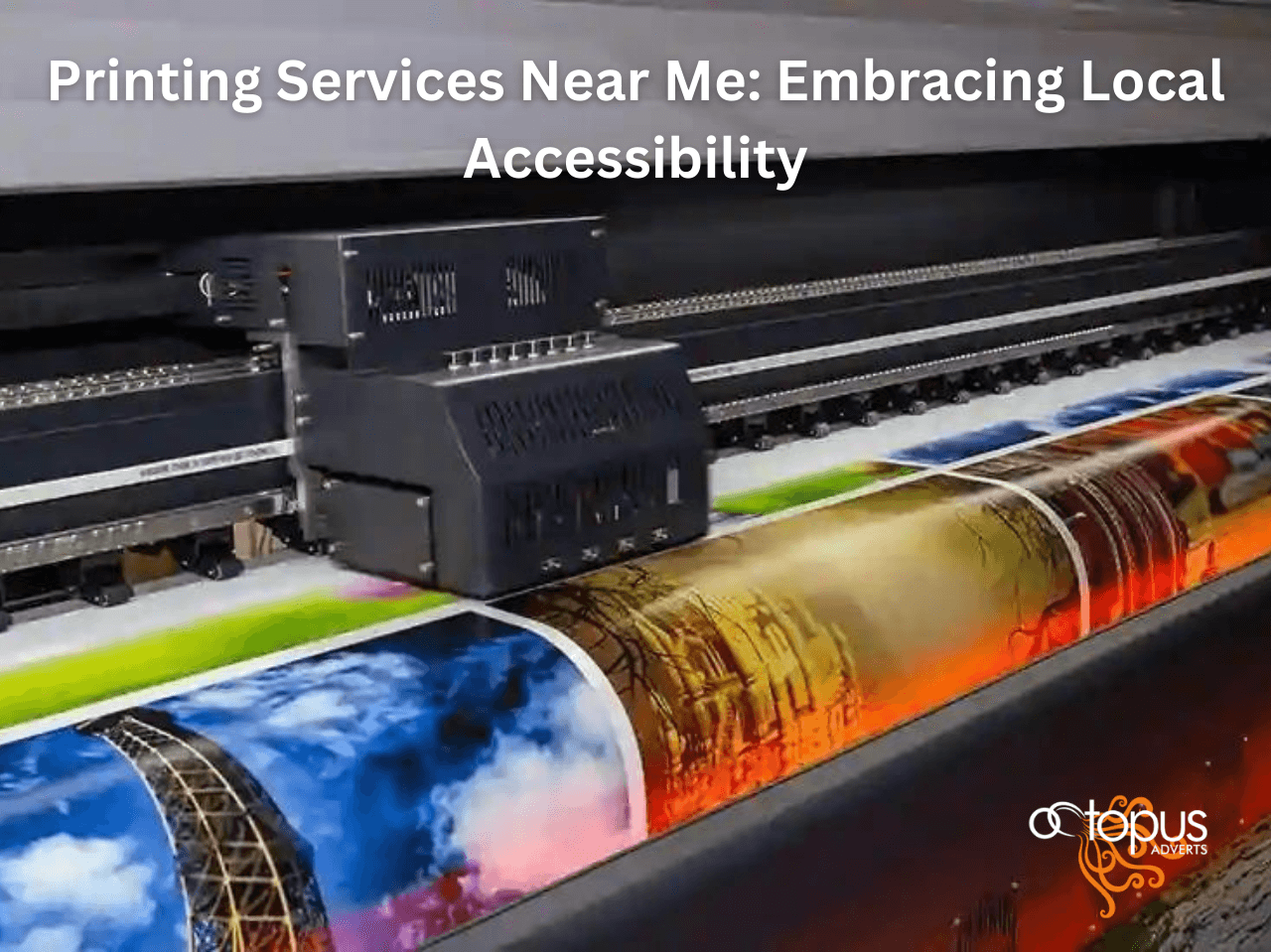 Printing Industries in Pune and Pan India
Expanding Horizons Pune, known as the "Oxford of the East" and a prominent IT hub, is a city that thrives on innovation and development. The printing industry in Pune is no exception, as it evolves to meet the demands of this growing city. Octopus Advertising is proud to be part of this thriving ecosystem, offering digital printing services in Pune to cater to the diverse needs of businesses in the region. Moreover, we have expanded our reach beyond Pune, serving clients pan India. We understand the importance of a reliable printing partner, and our commitment to quality and efficiency extends throughout the country.
Digital Printing in Pune and Pan India
Unlocking New Possibilities Digital printing has revolutionized the printing industry, offering a myriad of possibilities for businesses and individuals alike. Octopus Advertising brings you state-of-the-art digital printing services in Pune and pan India, enabling you to bring your creative visions to life. With our advanced equipment and expertise, we deliver vibrant and high-resolution prints with quick turnaround times. Whether you require business cards, brochures, banners, or custom promotional materials, our digital printing services offer the versatility and precision to meet your exact requirements.
Augmenting with Cutting-Edge Technologies The future of printing is not limited to traditional methods alone. As an industry leader, Octopus Advertising is continuously exploring cutting-edge technologies to enhance the printing experience further. From augmented reality (AR) integration to personalized variable data printing, we are at the forefront of innovation. We believe in pushing the boundaries of what printing can achieve, creating engaging and immersive experiences that captivate your target audience.
Whether you're in the bustling city of Pune or anywhere else across the vast canvas of pan India, our printing services are within reach, ready to transform your ideas into tangible masterpieces. From digital printing technologies that redefine precision and efficiency to a network of printing facilities near you, we're committed to making your vision a reality.
Join us as we unravel the threads of the future of printing, where innovation dances hand-in-hand with craftsmanship, and where the power to captivate and inspire lies within your grasp. At Octopus Advertising, we're here to shape this future, embracing cutting-edge technologies, expanding accessibility, and pushing the boundaries of what print can achieve.
So, step into a world where pixels meet paper, where digital meets tangible, and where your ideas take flight. The future of printing is calling, and we're here to ensure your story is told with the utmost brilliance.