The Evolution of Signage Technology: From Vinyl to LED
Vinay Tribe
Signage, a cornerstone of human communication, has a rich history dating back to ancient civilizations. From the rudimentary inscriptions of early civilizations to the sophisticated digital displays of today, signage technology has continually evolved to meet the changing needs of society. In this blog, we embark on a journey through time, tracing the evolution of signage technology, with a particular focus on the rise of vinyl signage and the transformative advent of LED technology.
The Rise of Vinyl Signage: A 20th-Century Revolution
The 20th century witnessed a significant milestone in signage technology with the rise of vinyl signage. Vinyl, a versatile and durable material, became the go-to choice for creating signs, both indoors and outdoors. Its ease of use, cost-effectiveness, and ability to withstand various weather conditions contributed to its popularity.
The Limitations of Vinyl Signage: Not Always the Ideal Choice
Despite its widespread use, vinyl signage has its limitations. Over time, vinyl signs can fade, peel, or become damaged, especially when exposed to harsh weather conditions. Additionally, the design possibilities with vinyl are somewhat restricted compared to more advanced technologies.
The Advent of LED Signage: Revolutionizing the Signage Industry
In recent years, LED (Light Emitting Diode) technology has emerged as a game-changer in the signage industry. LED signage utilizes an array of tiny LEDs to create bright and dynamic displays. This technology offers several advantages, including:
Energy Efficiency: LED signs consume significantly less energy than traditional lighting, making them eco-friendly and cost-effective.
Versatility: LED signage allows for vibrant and eye-catching displays that can change in real-time, offering limitless design possibilities.
Durability: LEDs are known for their longevity and reliability, ensuring that LED signs maintain their brightness and effectiveness over time.
Visibility: LED signs are highly visible, even in broad daylight, ensuring that your message is seen by a wide audience.
The Benefits of LED Signage In Shaping the Modern Signage Landscape
LED signage has reshaped the modern signage landscape, offering businesses an array of benefits. It provides a dynamic and engaging way to convey messages, promote products, and enhance brand visibility. LED technology has transcended traditional signage, allowing for interactive displays, video content, and real-time updates, all of which captivate and engage audiences effectively.
The Future of Signage Technology: Anticipating New Trends
As technology continues to advance, the future of signage technology is bound to be exciting. We can expect innovations in areas such as:
Integration with IoT: Signs that interact with other smart devices and systems.
Enhanced Interactivity: More immersive and responsive displays.
Sustainable Signage: Increased emphasis on eco-friendly and sustainable materials.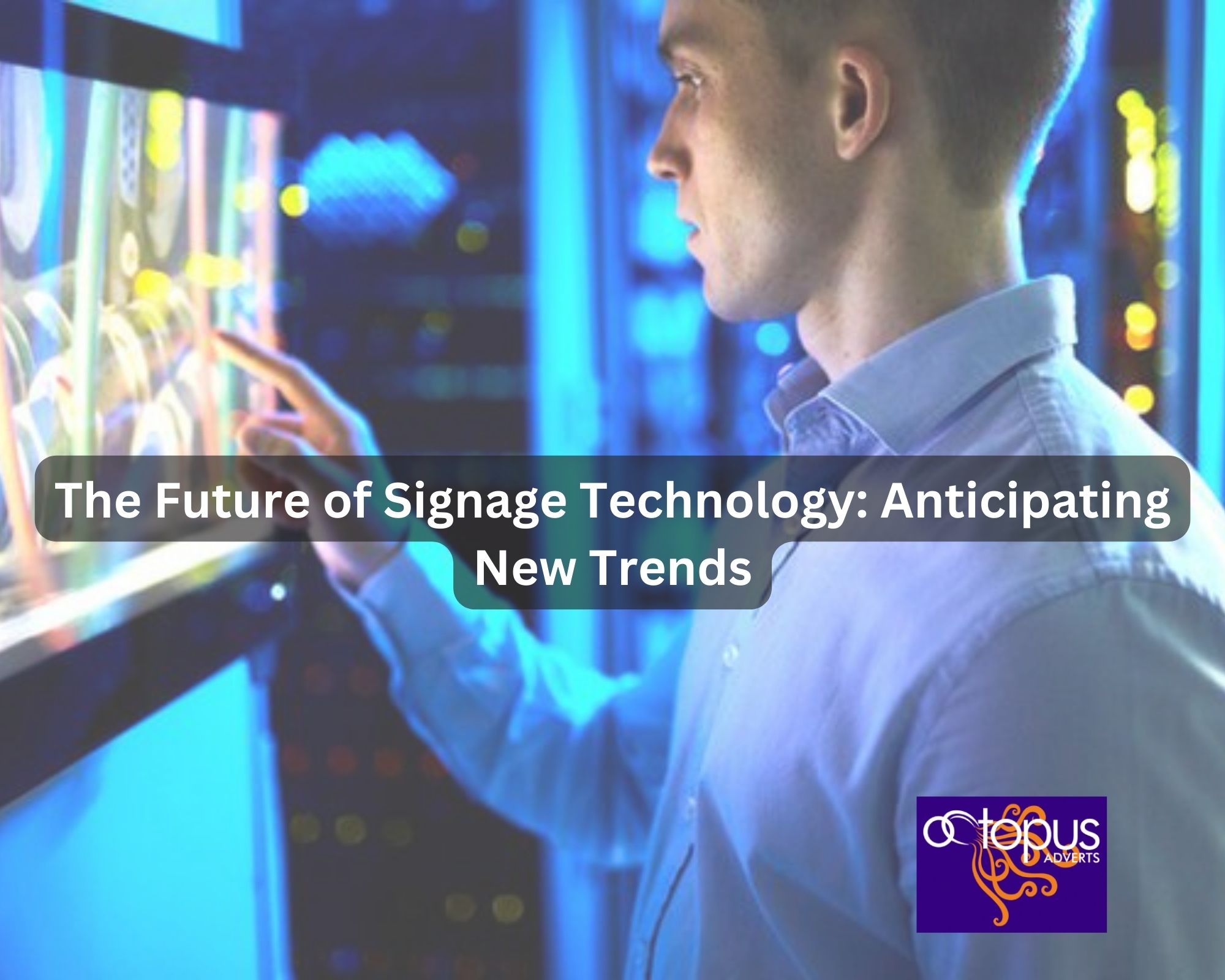 Navigating the Signage Landscape of Tomorrow
The journey of signage technology from vinyl to LED has been a transformative one, reflecting the evolution of society's communication needs and technological capabilities. LED signage, with its versatility, durability, and visual impact, has become a cornerstone of modern advertising and communication.
Looking ahead, we can anticipate further advancements in signage technology, making signage an even more integral part of our visual landscape. As the world evolves, so too will signage technology, illuminating our path with ever-brighter possibilities.